No error for last formula
When I used the fomula =Sales12+Sales13, it did not produce an error. Instead, it added each row and provided the values:
26
6.7
5.4
21.4
all in a column. Shouldn't it produce an error?
2 answers ( 0 marked as helpful)
Hi Emmanuel,
I would have expected the same. Perhaps your Excel version is newer and something changed. Do you want to share a screenshot?
Best,
Ned
Hi Ned!
Thanks for the great lessons!
I have the same thing as Emmanuel: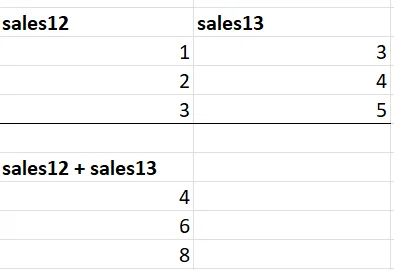 Let's say Sales12 = [1, 2, 3] and Sales13 = [3, 4, 5]
Then the expression (Sales12 + Sales13) results in [4, 6, 8]
=> So, it gives the sum element by element: [1st + 1st, 2nd + 2nd, 3rd + 3rd]


related questions